Description
The Dual Solo-Baric® L7S™ 12-Inch Subwoofer Enclosure is a ready-made bass machine with a legendary pedigree.

Serious power
Kicker optimized the 44DL7S122 enclosure for their legendary 12" Solo-Baric™ square subwoofers. This 2-ohm sub enclosure handles up to 1500 watts RMS without breaking a sweat, and the innovative square cones move much more air than conventional 12" round cones. Power this enclosure with a nice amp, and you will experience world-shaking bass.
Innovative woofer
The woofer's forged aluminum frame and Santoprene™ rubber surround handle high-level playback, while keeping the cone on track. The injection-molded SoloKon™ polypropylene cone features 360-degree, constant-contact back bracing for strength and responsiveness. And the UniPlate™ back plate and pole piece are made as a single, solid unit to allow heat to escape the motor. Translation? Kicker designed these subs to take some serious punishment.
Tough enclosure
Kicker covers the solid MDF enclosure with black carpeting, along with an embroidered Kicker logo. Heavy internal bracing gives you a solid base for the subwoofers. Rounded corners help the enclosure to fit in tighter spaces. The specially engineered port increases bass response, and the enclosure's 2-ohm impedance allows you to draw maximum power from your amplifier. Strong, innovative, and powerful, Kicker made the 44DL7S122 enclosure to deliver no-holds-barred bass.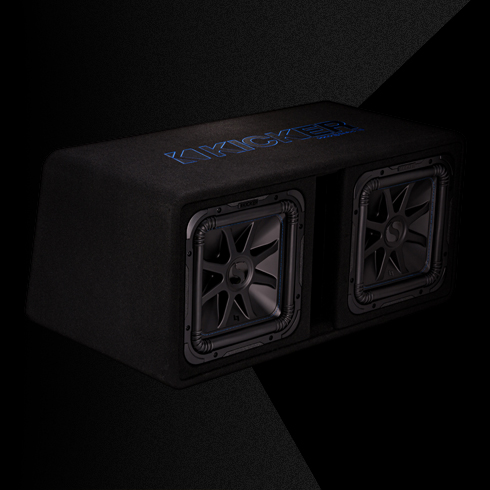 Dual 12" Solo-Baric L7S 2 Ohm Enclosure
The enclosure features the custom-designed vent/terminal cup with an extra thick front baffle and fortified back bracing for one of the sturdiest enclosures in the industry. Two Solo-Baric L7S 12-Inch Subwoofers pound out massive bass with a single 2Ω connection.
Features:
Genuine Solo-Baric® L7S™ Subwoofer Included
Custom Engineered Port Design
Heavy Internal Bracing
Single 2-Ohm Terminal
Easy To Install And Wire
Thick Black Carpeting
Rounded Corners
Embroidered KICKER Logo
Thick MDF Construction
*The Dual Solo-Baric L7S 12-Inch Subwoofer Enclosure works best with 1500 watts of recommended power. See below for more details.
Product highlights:
ported enclosure with two 12" Solo-Baric L7S subwoofers
medium-density fiberboard construction covered with carpet
2-ohm impedance
handles up to 1500 watts RMS (3000 watts peak power)
sensitivity: 89.9 dB
33-3/4"W x 16"H x 19-1/2"D1 x 16-1/4"D2
warranty: 1 year
MFR # 44DL7S122
What's in the box:
Kicker 44DL7S122 owner's manual
Loaded dual 12" subwoofer enclosure (L7S drivers)
4 Mounting brackets
Four #10x20mm screws
Eight #8x20mm screws
Owner's manual